Volunteering Opportunities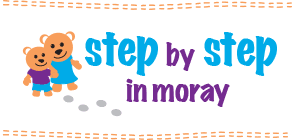 STEP BY STEP IN MORAY is a charity which supports families with young children who feel isolated or vulnerable for many different reasons. We help them to develop friendships, confidence and skills which will improve their wellbeing and resilience, enabling them to give their children the best start in life.
WHERE AND WHEN
St Leonard's Church Hall, Forres
Wednesdays (10am – 11.30am / 12.30pm – 2pm)
Victoria House, Elgin
Mondays – Thursdays (9.30am – 11am / 12.30pm – 2pm)
Victoria House, Elgin
Fridays (9.45am – 11.15am)

OUR VOLUNTEERS
Volunteers are the heartbeat of Step by Step. They are kind, considerate, non-judgmental, and empathetic. The ability to build trust in people where trust can be difficult is important, as is the ability to communicate sensitively and effectively with adults and children. Our volunteers support Step by Step staff during group sessions by providing a welcoming face to our families, engaging with them through conversation, play, activities and stories. They help prepare and serve snacks, tidy up and feedback information to our staff at the end of each session. All our volunteers must be aged 18 or over and eligible for PVG membership.

WHAT WE OFFER
In return we offer a taster session, induction training, training workshops and expenses.
To find out more please e-mail info@stepsmoray.org or telephone 01343 544628