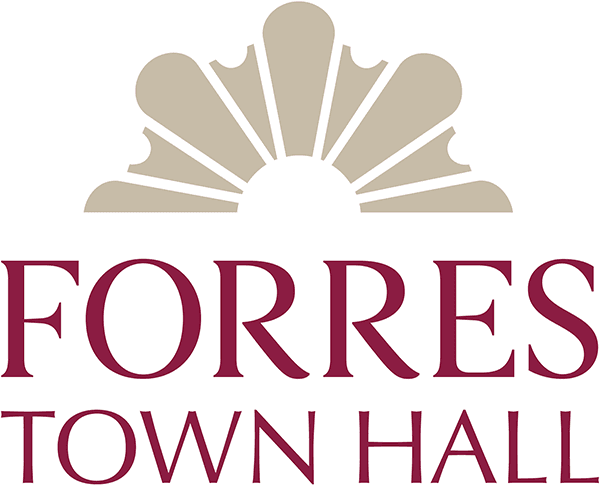 What's On
We have regular activities, classes and events throughout the year at our venues as well as special events for residents and the wider Forres area community. Take a look at our new guide of activities.
FACT Newsletter
Printed copies of our newsletter are available for anyone from the Town Hall. Once you join as a member, we'll automatically send you a copy of the newsletter.
---
Special Events
---
Regular Activities & Events
---
Regular Users
Film Forres 

Film Forres is a community-based interest group which promotes a range of community film activities for the Forres area. These include: film screenings for different age-groups, providing use of the film equipment to other groups for screenings, performance and related activities. They run a film programme from Forres Town Hall.
Forres and District Pipe Band

Forres and District Pipe Band has a long history of playing for local community events, Highland games and for local people on their special occasions. It has regularly performed at the European Pipe Band Championships which was held in our home town until 2017 and at the Highland Military Tattoo, Fort George which also ended in 2017. Over the past few years the Pipe Band has gone through a transformation for the better and has welcomed many new players and it has re-equipped with new instruments and uniforms. The Pipe Band regularly meets at Forres Town Hall.
RSCDS Forres

Scottish country dancing in Forres and Nairn provides opportunities for local people to Dance Scottish with them, for fun, fitness and friendship. Scottish country dancing is an easy way to keep the brain and body active, and to meet new people. Spend an evening with them and find out why this form of dance – enjoyed by people of every age and ability all over the world – is so popular. They meet weekly in Forres Town Hall.
Forres Camera Club

Forres Camera Club was formed in 1976, back in the days of celluloid and hypo. The original members laid the foundations of a club which is committed to developing the photographic skills of its members while at the same time valuing humour and a friendly, sociable atmosphere. New members are always made welcome and before joining may attend for a couple of weeks to see if the club is for them.
​Turning Point

​Turning Point is a church of ordinary people committed to working out what it really means to follow Jesus Christ every day. They meet together on a Sunday in an informal and relaxed way at the Town Hall to share music, real life stories, fun, laughter and talks which help to make sense of life.
Varis Players

Varis Players are an amateur dramatics group based in Forres. They hold Christmas Pantomimes and Spring Plays. As a registered charity organisation they strive to give a wide range of people access to the theatrical arts in the rural area. Practices are held at Forres Town Hall.
Forres OAP Association

Forres OAP Association is a friendly group of older people, getting together to enjoy weekly meetings featuring entertainment, raffles, and of course tea and biscuits. New members are always welcome.

Contact: June Kirk on 01309 673194
Highland Youth Theatre

Although principally based in Inverness and Elgin, Highland Youth Theatre aims to inspire and ignite a passion for all things "arts" within children and young people. With classes encompass singing, dance, drama and musical theatre and are open to children aged 5-18 years. Approximately 2 or 3 times a year the Highland Youth Theatre hold a theatre play exhibition within Forres Town Hall which is one of the few halls in the area with a working stage. Something the children rarely experience.
New Moray Lets

Every quarter the group holds a "Trade Fair" at Forres Town Hall. Members of a Local Exchange Trading System in the North of Scotland, the project started in June 1997.